Our commitments
Create moments to enjoy and to share around the table with due respect for craftsmanship, your health and the planet.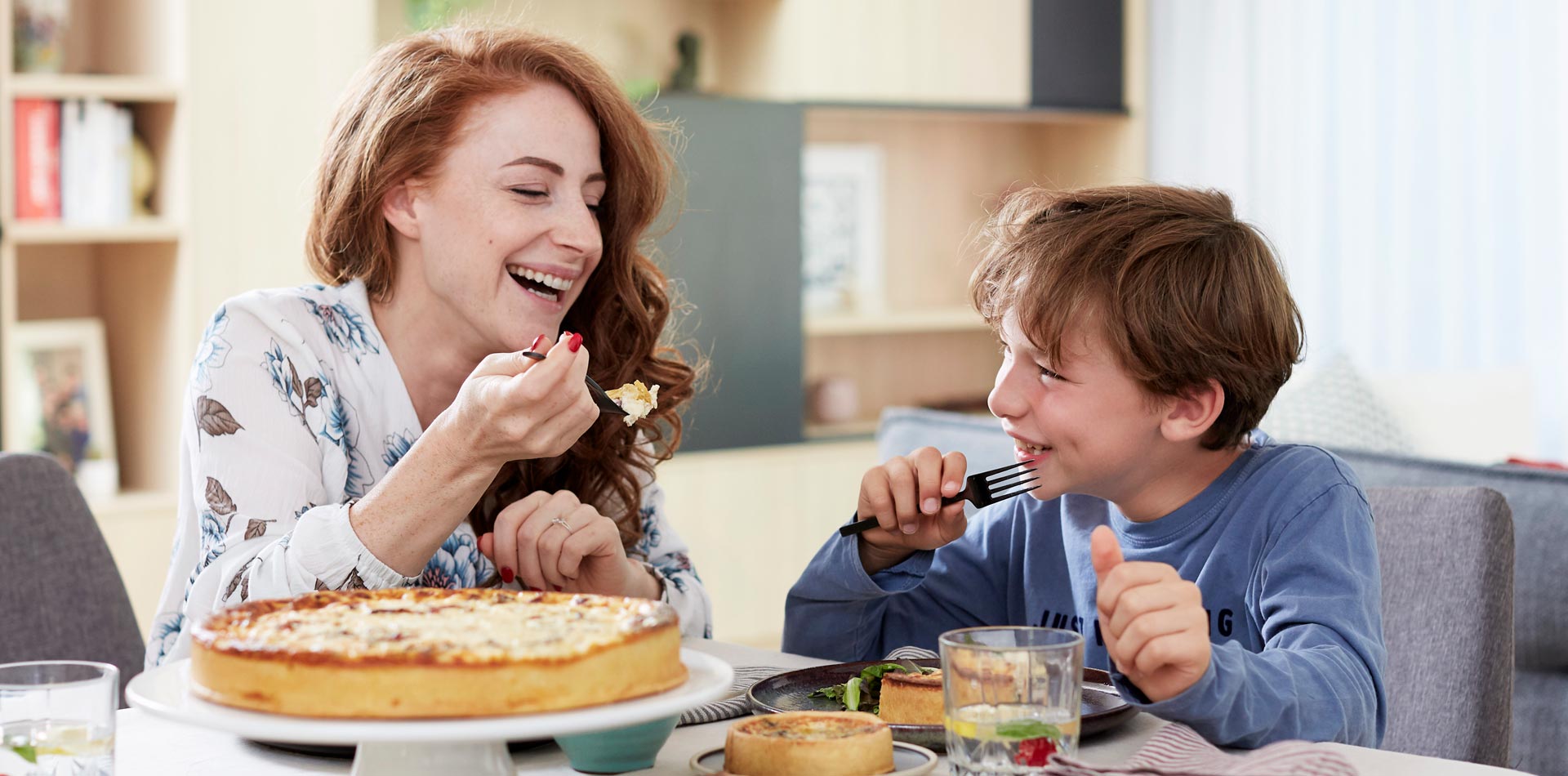 Delicious recipes and healthy ingredients that are good for the body and soul!
Putting the world to rights with family or friends, it doesn't get better than that! And if food is involved, even better! At Artisan Gourmet, our mission is clear: to offer you a meal that is indulgent yet healthy, oven-ready in a matter of minutes. Quality products, with taste, taste and more taste.
Craftsmanship that has been reinventing itself for more than 30 years.
"Home" cooking, from the pure butter pastry to the crispy and creamy filling.
More than 30 Tradition, Organic, Veggie or 100% natural recipes to enjoy and to share.
Fresh and local produce put together without superfluous ingredients.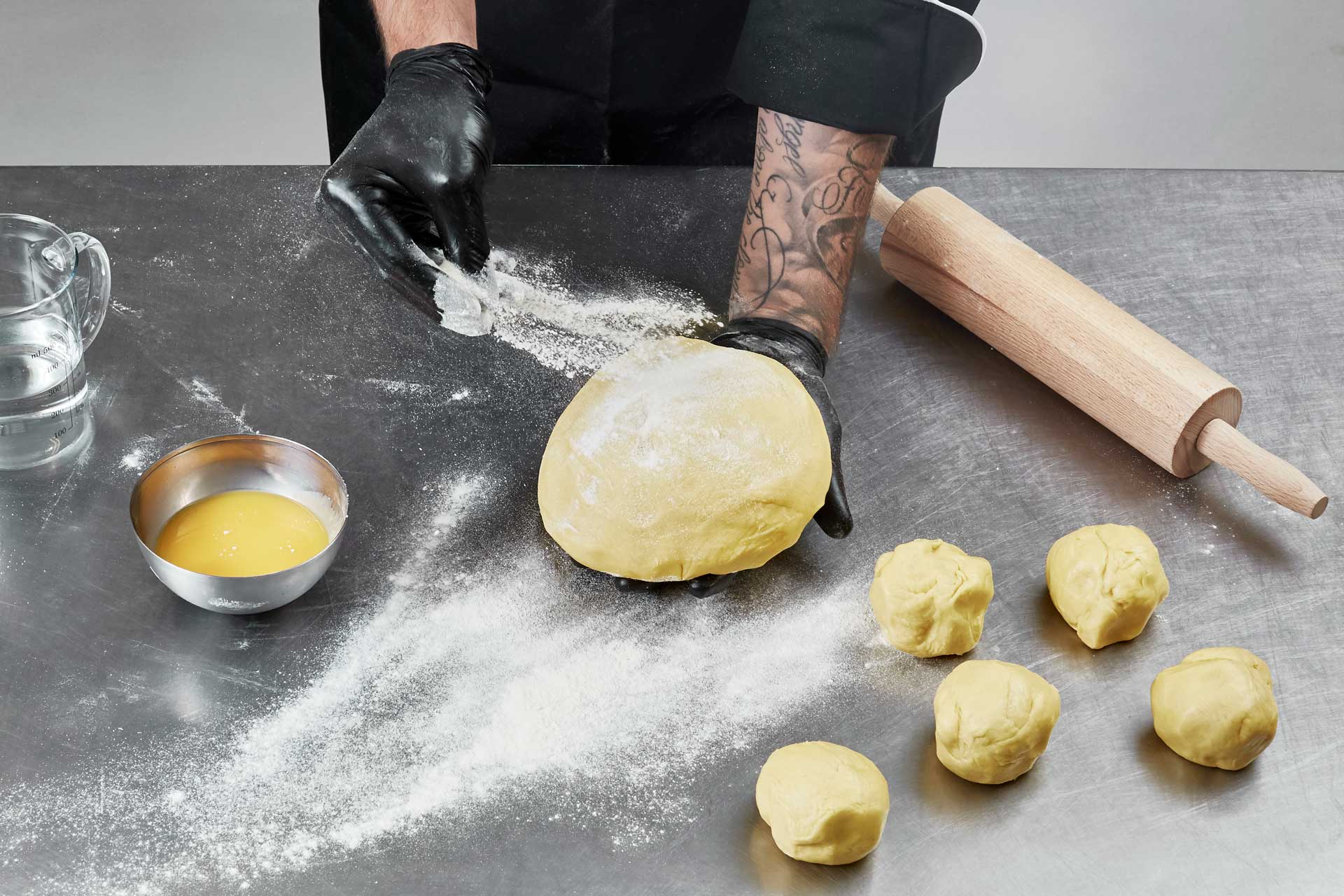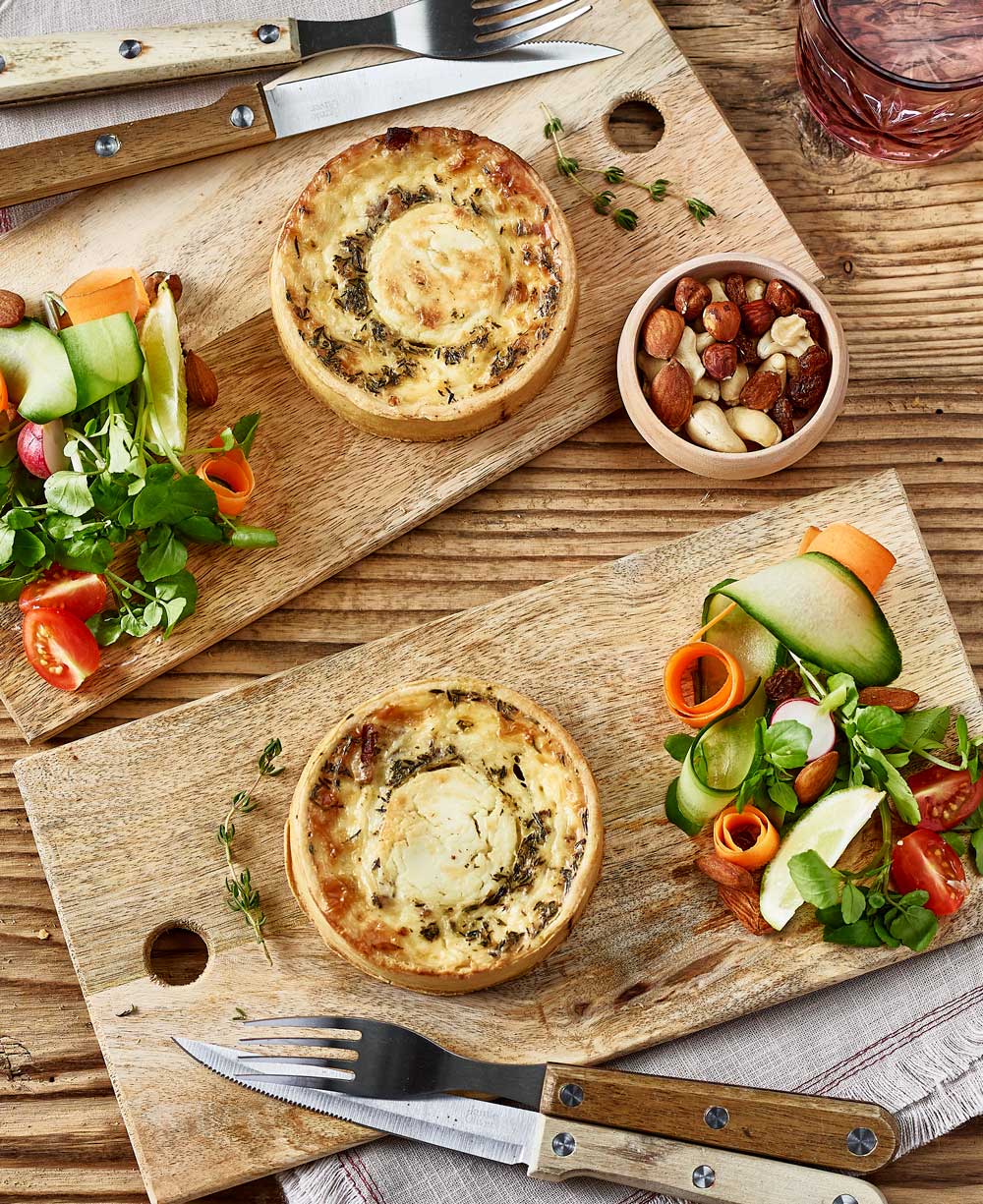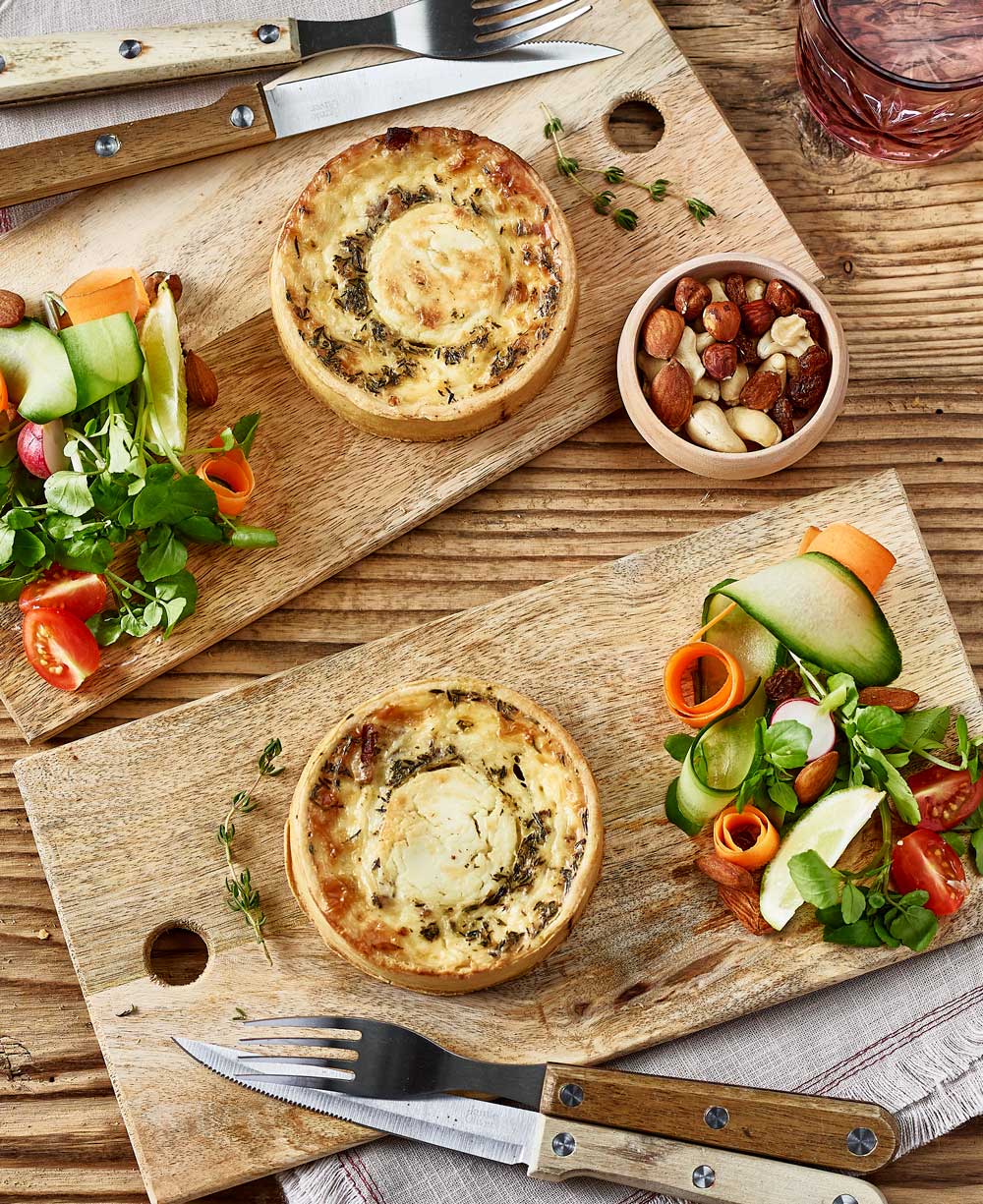 Quality fast food!
Is it possible? Not always, but what if we told you that we had found the solution? Our magic recipe: a good dose of indulgence and generosity, a dash of tradition and a whole lot of taste.
Responsible production
At Artisan Gourmet, the ingredients we use in our recipes are the result of environmentally friendly production. In line with societal challenges, our local suppliers are carefully selected for their know-how, the quality of their products and their willingness to sign up to a more sustainable approach.
The Proxiscore
Another home-made invention! The Proxiscore represents the impact of the kilometres travelled weighted by the amount of each ingredient used in our recipes. Let's take a preparation composed of 30% tomatoes and 70% leeks grown 80 and 15 kilometres respectively from our workshop. The Proxiscore is obtained as follows:
30% x 80kms = 24
70% x 15kms = 10.5
Proxiscore = 34.5
For products with an equivalent nutritional value, taste and environmental credentials, we will always opt for the nearest producer. Our goal is to minimise our societal impact, from the selection of our suppliers to the packaging of our products.
Enough talk. 15 minutes in the oven and… enjoy!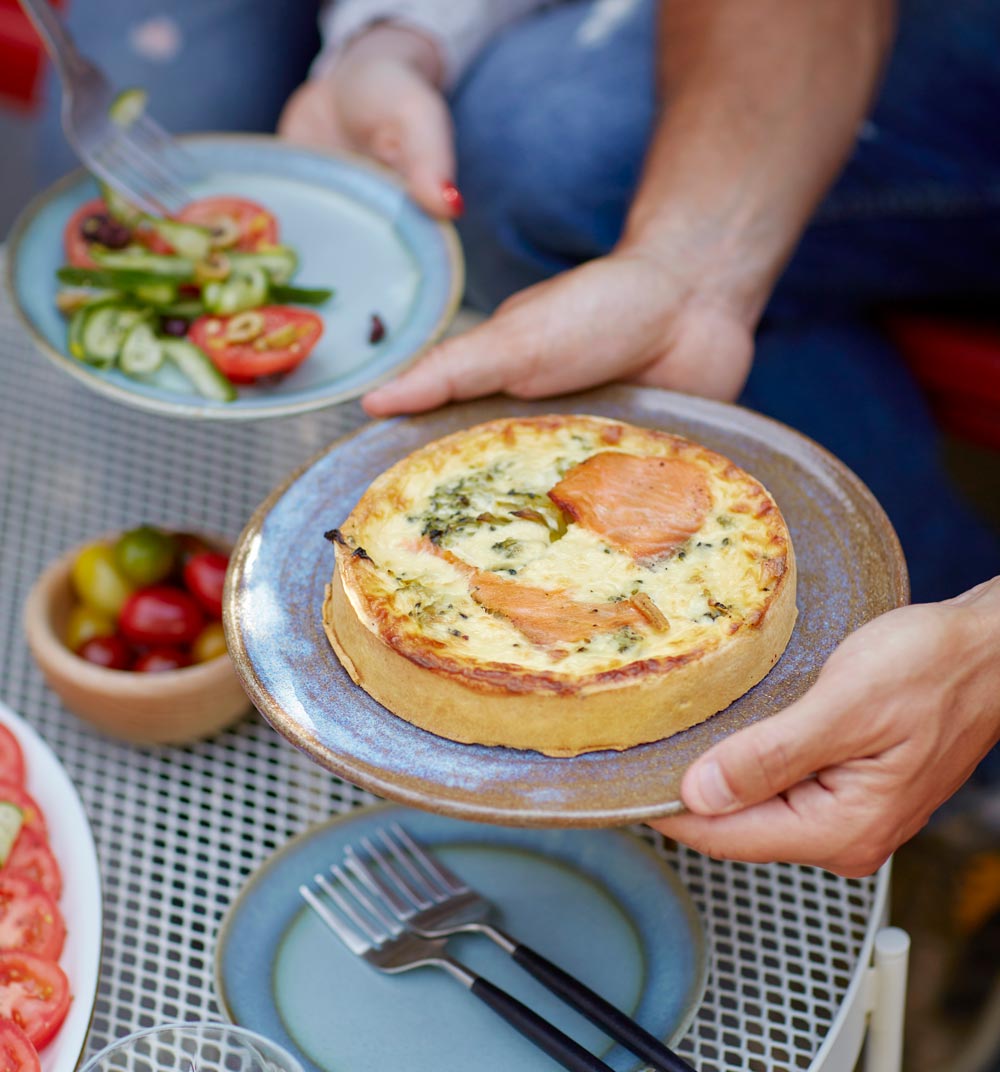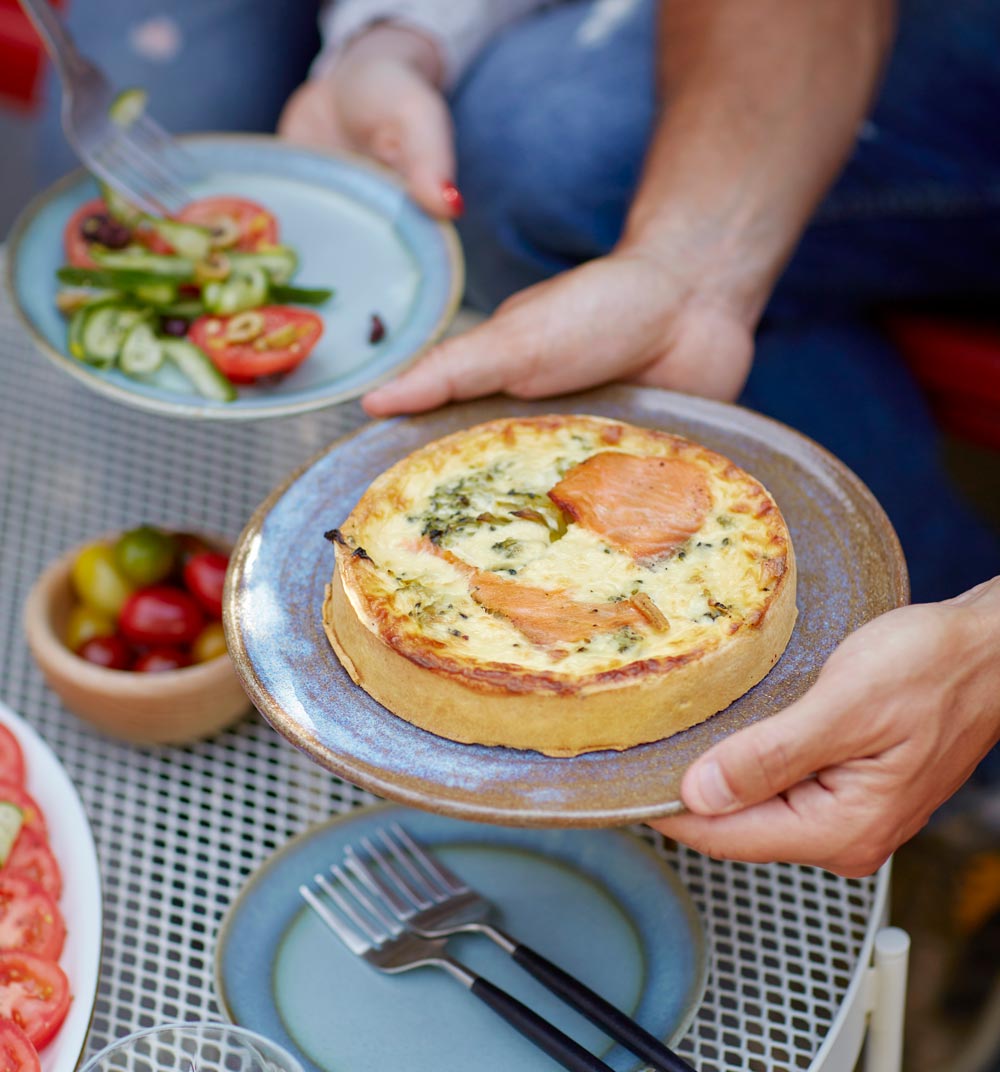 Good for you and good for the planet.
Producing better to eat better. Because we attach the utmost importance to what is on your plate, our cuisine is put together from healthy ingredients whose salt content is controlled.
But we don't stop there. We are constantly expanding our range of organic products and our 100% natural range gives pride of place to the Clean Label: 0% superfluous ingredients and even fewer preservatives added.
More than 30 years of good practices and good food.
Shortly after their marriage, Pol Blanchart, a recently graduated pastry chef, and Brigitte Lesseigne, who was fresh out of catering college, started working in the family bakery located in Seneffe.
1978
Back home, Pol decided to start his own business. That was when his quiches sprang to mind. He converted a warehouse in Obaix into a small factory and opened a market stall in Nivelles Initially, he only sold four varieties of savoury tarts: Lorraine, broccoli, leek and mushroom & bacon. Over the years, the range of Artisan Gourmet quiches has grown constantly without ever skimping on taste and quality
1984
Pierre-Yves Berthe and Quentin Mariage visited the company. A unique know-how, a great team and shared values. In short, it was love at first sight. So they embarked on their Artisan Gourmet adventure with the aim of preserving Pol Blanchart's craftsmanship while infusing it with a modern outlook and a genuine awareness of its impact on the environment.
2018
Ever more focused on the quality of its products and its societal impact, the company strengthened its partnerships with local producers and converted part of its range to organic.
2019
Artisan Gourmet arrived in France! First in the North, then in Ile-de-France.
2020
A new milestone for Artisan Gourmet with the launch of a range of "Clean Label" products: ultra-transparent recipes, without superfluous ingredients or added preservatives. As good as it gets!
2022
Have a question?
Want to know more about our company, our products or our values?